Agile IT at the service of business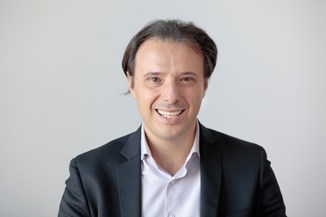 It is well known, and now a daily reality, that digital is revolutionizing the interaction and business models of numerous industries. With country-based operations in more than 30 countries worldwide, CRIF helps credit institutions and companies to deal with the current transformations and, through the innovation which is in its DNA, aims to help them offer their customers - consumers and companies - a simpler and faster experience and state-of-the-art products and services. We asked Mirko Tedaldi, Senior Director of IT Solutions at CRIF, the directions in which the CRIF Global Technologies division is developing and on which pillars is it building its foundations to create value for its customers.
Governance and flexibility in innovation, with guaranteed security
"From a technological perspective, the new-found centricity of customers and end-users - i.e. the customers' customers - means that we have to be able to rapidly develop applications and services that are subject to frequent iterations", Mirko Tedaldi explained.  "Therefore, we should redesign technology architectures in a more flexible way, so that we can adapt to business requirements and develop new services according to an MVP approach, in the sense of both Minimum Viable Product and Minimum Viable Process."
At CRIF Global Technologies, CRIF's IT division, which supports all the Group companies around the world and in all the industries they operate in, digital transformation poses some significant challenges. "First of all, we need to respond to both the company's internal and external needs, which means knowing how to combine governance and security objectives.  We also need to leverage key assets and services, without compromising the focus on customer centricity and agility, and provide support capabilities for new business models without giving rise to 'discontinuity' in existing services. Other crucial aspects in our daily work serving a growing company like CRIF", continued Tedaldi, "are those that ensure agility in development, delivery and operations, and enable us to respond to the flexibility of demand through the cloud."
On a technology level, the cornerstone of the digital business model, is a new way of defining APIs as interfaces that enable the interaction between the company and the users of its assets/services. Here, an API is intended as a primary entry point to company services, for its website and its applications, as well as for the integration of partners and clients. The next generation CRIF services use APIs in order to facilitate such a business-user interaction in the context of digital transformation.
However, in order to guarantee and support a successful transformation, acting only on technology is not enough. We need the right compromise between existing assets, processes, systems, and operations.
Not just technology, but people and processes too: we need organizational synergy
At the same time, to facilitate the new operating model, "the internal structures need a different organization and a different set of processes: agile and collaborative. Key to this is a close synergy between all the company functions, aimed at satisfying the end customer." Indeed, this cohesion is a prerequisite to being sustainable, increasing the speed of processes, and optimizing time and resources, as well as improving the time-to-market and minimizing mistakes, feedback time and manual activities. "Not to mention the most valuable asset, people: each member of the team, including on a cross-functional level, must be aware of his or her role and have the right level of commitment."
Looking in more detail, which specific areas have you worked on or are you working on to reach these goals?
DevSecOps
"Within CRIF Global Technologies, we've implemented the DevSecOps methodology, based on three main components", explained Tedaldi. "The first is workflow automation: from bug fixes and feature requests to post-release testing in the production environment. The second is the use of an automated workflow orchestration tool for builds/tests." This orchestrator, together with a configuration management tool, is also used for deployment workflows. "The third component, thanks to an agile development approach, is the involvement of the Operations team in the initial phase of the project, in order to intercept any critical issues on a system level as soon as possible." This also gives the option to design and set up the environment in which the application will be installed and to develop the related automated workflows. The decision to implement the "Sec" variant (from security) of DevOps was guided by the awareness that agility and speed cannot be separated from the need to guarantee the security of the released software and the infrastructures that host it.
Tailored project management: Minimum Viable Product / Process (MVP)
Rather than choosing a 'one size fits all' approach, CRIF Global Technologies has chosen a custom approach to project management. "We adapt IT processes according to the scope and the characteristics of the client and project, its size, its complexity and risk tolerance, including to business risk." There are two key areas: to only release to the client those functions that it needs using an agile and incremental approach; and to guarantee a sustainable business through increasingly fast innovation which meets the client's needs, leveraging adaptable processes and competitive teams, with a culture which is close to the reference market.
Successfully growing and serving international markets: agility, collaboration and interculturalism
Faced with significant international expansion, the choice of an Agile methodology for CRIF represented "a winning strategy to effectively serve our global customers, which we implemented in different business areas and contexts and applied to increasingly large and multicultural teams distributed across different countries", stated Tedaldi.
Here, one of the pillars of the evolutionary path GT Journey undertaken by CRIF Global Technologies comes back into play: the subject of People and, specifically, the aspects of cooperation and interculturalism.
While it is essential to be able to work 'side by side' in any company, it is particular important for CRIF, despite the fact that it operates through organizational units sometimes located thousands of kilometers apart, in different time zones, and the need to work in real time. "Technological potential also helps us a lot in this context to share information, documents and processes: latest generation software and hardware make for a smart, agile and flexible organization, as well as enhancing people's well-being and improving their work-life balance. These are, however, complex architectures and we need to know how to adapt them to the actual objectives of the organization, to the specific working models adopted, and to business requirements."
With "Embracing worldwide differences" among its founding values on a corporate level, another topic which CRIF pays significant attention to is interculturalism. In the specific context of the Global Technologies division, this means focusing on intercultural and cross-functional IT teams, sharing information and creating synergies so as to guarantee high performance and innovation. "We have succeeded in making diversity our point of difference, through the definition of guidelines which have enabled different teams to achieve the same result, adopting the digital platform or architecture best suited to project requirements. This is also thanks to agile tools and methodologies, to automation, to company collaboration tools, to the winning combination of Agile-DevSecOps, and to the continuous support given every day to the subject of interculturalism", explained Tedaldi.
"Because technical and process innovation and collaboration are key to the success of modern organizations: constantly refining and changing products, preempting the situation, evolving quickly, and creating the next solution", concluded Tedaldi.
For more information infoglobaltechnologies@crif.com