CRIF at the Regional Forum organized by the World Bank and the Central Bank of Tajikistan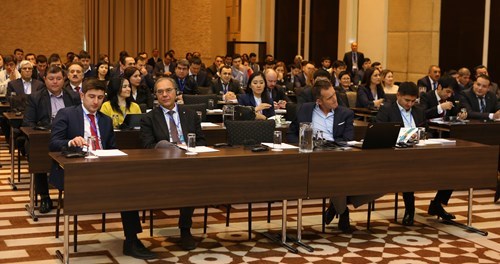 On December 6-7, 2018, at the National Library and Diar in Dushanbe, Tajikistan, CRIF spoke at the Regional Forum organized by the World Bank and the Central Bank of Tajikistan on "Digital transformation in the financial sector and remote identification".
More than 230 professionals attended the event, titled "On the way to a cashless economy: Innovations – Infrastructure – Inclusion". Among them were representatives from 12 central banks (Tajikistan, Serbia, Ukraine, Georgia, Azerbaijan, Kazakhstan, Belorussia, Uzbekistan, Kyrgyzstan, Russia, Armenia and Turkmenistan), as well as from the AFI, FIMSA, Fintech solutions providers, MNOs, private financial sector players, international and national level payment and card systems, credit bureaus, and international technology and software companies.
The Regional Forum aimed to create a platform where the market players from the Central Asia region could share ideas, experiences, thoughts on the development and implementation of different innovative solutions in cashless payments, infrastructure and financial inclusion.
The speeches focused on innovative payment instruments in the digital economy and alternative methods of non-cash payment (mobile payments, QR codes, NFC), cybersecurity risks and their mitigation measures in the area of cashless payments, and the future of digital banking in the region. CRIF, represented by Edoardo Borsari and Simone Belluomo, gave a speech focused on "Digital Onboarding" and "Remote Identification" solutions. In relation to digital credit systems and tools, CRIF is successfully co-operating with both the CIBT (Credit Information Bureau of Tajikistan), of which CRIF is a shareholder, and the World Bank to bring innovation and expertise to the region.